• Charity • Christmas gifts • joyful • Norfolk • T-Towel • Tulips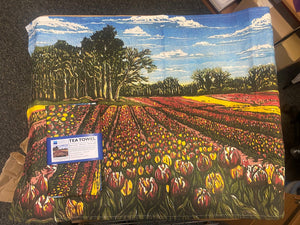 You now purchase my linocut Tulip Splendour as a T-towel - all proceeds go to charity please follow the link.. https://www.norfolkhospice.org.uk/shop/tulip-tea-towel? Tiptoe through the tulips with our brand new tea towel design, featuring an original linocut design by Louise Stebbing. Celebrate Tulips for Tapping all year round with our Tulip Splendour Tea Towel, made with 100% premium cotton and made in the UK. The tea towel will arrive packed with a wrap around and with a hanging loop attached to the tea towel.  Perfect as a gift or to brighten up your kitchen.  All proceeds to The Norfolk Hospice.  Measures...
---
• Charity • Fields in Norfolk • Laleh • Linocut • May 2021 • norfolk • norfolk tulips • Tapping House Hospice
Earlier in May I enjoyed a great morning tip toeing through the Tulips behind the Ffolkes Arms in Hillington, Norfolk. They were open by pre booking for the public to see the glorious display. Proceeds went to Tapping House Hospice. Knowing I would be inspired, I took a couple of sketch books, struggling to hold the big one in the wind I managed a couple of larger sketches but worked mostly on a small scale.  Later in my studio I used my sketches to create an image to then make into this linocut. See previous post for how it was...
---
• art • charity • Coronavirus • linocuts • louisestebbing • printmaking • support • toiletries amnesty
I have just created this new 3 colour linocut "Most Wanted 2020"  100% of sales are going to go to Toiletries Amnesty I wanted to give something back in these hard times and the whole mayhem of the Coronavirus is at the forefront of everyone's minds.  "'Most Wanted 2020' was created in response to current global issues and the reaction some people have to such a drastic time. "It is about making a remark about the things the public seem to find the most necessary in a time of crisis - almost causing another crisis in their wake. I created...
---
• Benjamin Foundation • Butterfly • Buy • charity • louise stebbing
I have created a butterfly for @CharityTBF you can own it by bidding here: https://bit.ly/3cLsrMQ   https://benjaminfoundation.co.uk/eve…/butterfly-art-auction/ https://www.ebay.co.uk/itm/ceramic-butterfly-by-artist-Louise-Stebbing/283808702141?hash=item4214511ebd:g:Y98AAOSwNzleZThp
---
• art • art exhibition • charity • coast • hunstanton • Linocut • norfolk • Seascape
I will be exhibing will lots of other artists today Friday 19th August 12 - 6.30 & Saturday 20th 10am - 6.30pm at HUNSTANTON Methodist Church in a Charity Exhibition for the Stroke AssociationCome along you even get a FREE Blood Pressure Check (not sure if that is related to looking at the work) and refreshments all day. Its easy to find - Hunstanton on the corner of the main A149 and Austin St. look for the posters.