• Charity • Fields in Norfolk • Laleh • Linocut • May 2021 • norfolk • norfolk tulips • Tapping House Hospice
Earlier in May I enjoyed a great morning tip toeing through the Tulips behind the Ffolkes Arms in Hillington, Norfolk. They were open by pre booking for the public to see the glorious display. Proceeds went to Tapping House Hospice. Knowing I would be inspired, I took a couple of sketch books, struggling to hold the big one in the wind I managed a couple of larger sketches but worked mostly on a small scale.  Later in my studio I used my sketches to create an image to then make into this linocut. See previous post for how it was...
---
• colour • Fields • Fields in Norfolk • Interior decor • linocut • Norfolk Tulips • Tulips for Tapping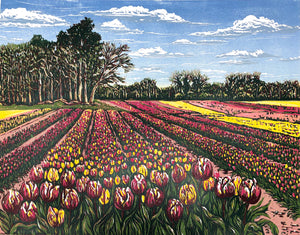 On 5th of May I had a wonderful day in the Tulips for Tapping field in Norfolk - I took my sketchbooks - the big one was hard to handle in the wind but I still managed to do a few sketches. I always like to work from a sketch because it gives me much more information than a photograph. Your eye sees things differently to a camera lens. Back in the studio I chose one of my sketches to develop and translate into a linocut . Below is a selection of the colours/layers I put onto the lino. It is...
---
• artists • etching • linocut • meet the artist • norfolk • norfolk tulips • open studios • press • printmaking • Summer 2019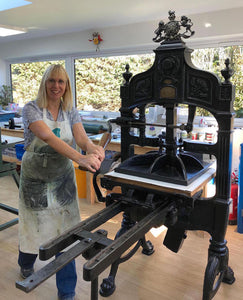 I will be Opening my New Studio as part of Norfolk & Norwich Open Studios 2019  Come and see how I create my art work be lovely to see you  www.nnopenstudios.org.uk