News — Retrospective Book
• 40 years of printmaking • artincambridge • Cambridge • cambridgeuniversity • Retrospective • Retrospective Book • THANKYOU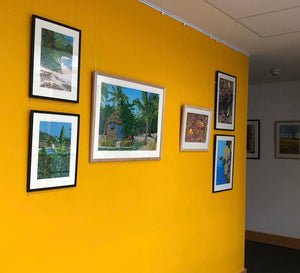 A huge thank you to everyone who visited and those who purchased work at my Retrospective in Cambridge - thanks to all those that joined the tours and listened to me babble on :) It is now officially ended (but if you're in Cambridge most of it is there until the end of this week 23rd Sept) I am delighted that so many people came from all corners of the UK. A huge thanks to Judith at the ARB for all her hard work and to everyone who has helped me with the show - you know who you are...
---
• art • Art Book • art studio • artist • book • buy art • etching • exhibition • linocut • louise stebbing • norfolk • Norfolk Artist • printmaker • printmaking • Printmaking book • Retrospective Book
On August 10th I should have been opening my Retrospective Exhibition at Art at the ARB in Cambridge - sadly due to current Coronavirus Pandemic it has been postponed to 2021. A book was already almost finished to accompany the exhibition so it was decided that as it was so close to printing that it should indeed be printed now anyway - it celebrates my 40 years of Printmaking with insights into my life and why I am so passionate about Printmaking - there are over 80 images of my work. To mark the date that the exhibition should have...