• art • beehives • garden • linocut • norfolk • sketch • special offer • tulips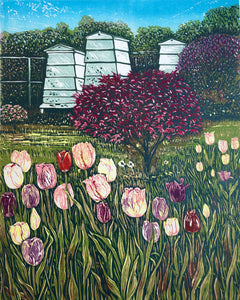 SPECIAL OFFER - sadly only available to the first buyer - if you ask you can have for FREE the original colour sketch(see photos) to go with the linocut. DEADLINE for offer 30 June 2023. finished linocut drying . sketching in the garden cutting out for the final layer       original sketch and studio assistant tired after all the advice. (only the sketch comes with the offer!)  If you don't ask for the sketch I will assume you don't want it and it will go to the next buyer. Inspired by the beautiful tulips and beehives in our garden. I...
---
• exhibition • France • Garden • louisestebbing • printmaker • RA • RA Summer Exhibition • summer exhibition • Tourists • Van Gogh
I've been working on my 2 entries for RA Summer Exhibition all January - just submitted my entry - its now out of my hands ! Everything crossed - would be nice to get in a third time - was shortlisted last year. Sorry can't reveal the images yet! So here is the first image I had accepted a few years ago..