• Art classes • christmas 2021 • Creative • Gift token • Linocuts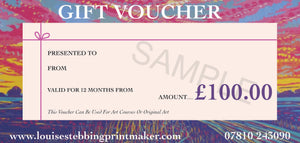 Not sure what to get that special person for Christmas? Gift Tokens are available from my website and can be sent out in time for Christmas - they can be used for Picture Framing, Printmaking & Drawing workshops or Louise's Original linocuts & etchings.
---
• art fair east 2021 • Derby • exhibitions • Linocuts • Norwich • Penrith • Royal Academy Summer Exhibition
I will be taking part in Art Fair East  2nd-5th December see link for details.  Come and see my latest work in Norwich at this great Art Fair  My "Rise of Female Artists" can be seen at the Royal Academy Summer Exhibition until 2 January 2022 still time to book tickets - its a joyous exhibition. Rise of Female Artists  Some of my work is hanging in the Royal Derby Hospital in an exhibition titled "SOLACE" on until April 2022  (I'll add a link when it goes live) The Great Print Exhibition 7 - Rheged Gallery, Penrith, Cumbria 4th December 2021  to...
---
• etching • linocuts • Norfolk Open Studios • open studios • Open Studios 2021 • Printmaking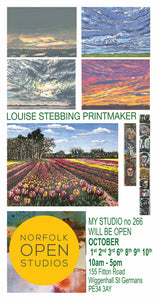 I am now open as part of Norfolk Open Studios Friday 1st, Saturday 2nd Sunday 3rd 10 - 5 for more dates see below or the link to Norfolk Open Studios   I will be showing all my linocuts, etchings, paintings, cards, books, a slideshow of more work, workshops and the amazing insight to Varnishing Day at the Royal Academy Summer Exhibition - you will also be able to see the linocut that is hanging in the RA and more like it.  Some works are on offer just for Open Studios come along and have a look...
---
• Affordable Art Fair • Art Without Walls • arts in London • Campari • ContemporArti • Eros • Linocuts • London • Mont St Michel
Had my first train journey in over 15 months yesterday - I had cycled past the train station at Watlington several times wishing I could get on a train to see some art. Feeling a bit apprehensive but determined to go and find my artwork as part of the Campari / Art without Walls campaign with the Affordable Art Fair and the gallery my work is with "ContemporArti" -thanks to you all . The train was great bigger better trains now - still a bumpy ride though. Plenty of space for social distancing.  Arriving in London I then took the...
---
• art • artists • books • linocuts • postal rates • shipping • worldwide
Unfortunately I have had to increase my postal rates as the cost has gone up hugely since the New Year. I have tried to keep them as low as possible.