• Art • ArTogether East • Ceramics • Exhibition • Grimston • Norfolk • Norfolk Creative Arts • Painting • Printmaking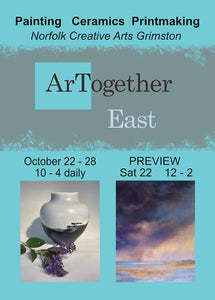 ArTogether East Inaugural Exhibition I have joined with 4 other artists to create ArTogether East a wonderfully mixed group of artists all different in our techniques and approaches. Come and see for yourself how we compliment one another in our first exhibition at the lovely Norfolk Creative Arts in Grimston. From 22nd - 28th October Please join us for a Preview on Saturday 22nd from 12- 2 ArTogether East are: Christine Finney, Ceramacist; Maxine Byron, Painter; Louise Stebbing, Printmaker, Stan Jones, Painter/Printmaker; Tom Sharp, Sculptor (Tom unfortunately won't be showing in this exhibition) The Arts Centre has a free car...
---
• colour • fields of flowers • linocut • merchandise • norfolk • Norfolk Hospice • tulips • tulips for tapping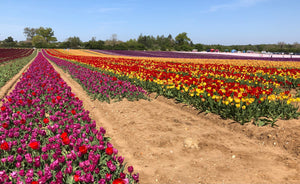 Had a lovely time in the beautiful tulip fields in Norfolk in aid of Norfolk Hospice tickets still available  Did a couple of quick watercolour sketches but mostly just soaked up the stunning beauty of the fields  Check out the merchandise... my linocut from the fields last year available as a t towel - also available on their website.    Thanks to Karen Harvey for the photos (first one what happens next!)
---
• art classes • learn to draw • learn to linocut • Norfolk • printmaking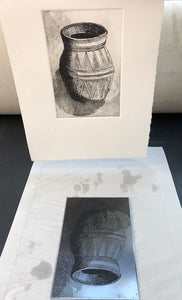 I have just worked out dates for the beginning of 2022 - more dates will be added throughout 2022. Printmaking workshops will be limited to max. 4 people and drawing class 6 people. Booking is required. All classes are suitable for beginners or more experienced. I will work around the individuals needs. 
---
• Charity • Christmas gifts • joyful • Norfolk • T-Towel • Tulips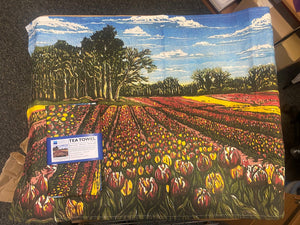 You now purchase my linocut Tulip Splendour as a T-towel - all proceeds go to charity please follow the link.. https://www.norfolkhospice.org.uk/shop/tulip-tea-towel? Tiptoe through the tulips with our brand new tea towel design, featuring an original linocut design by Louise Stebbing. Celebrate Tulips for Tapping all year round with our Tulip Splendour Tea Towel, made with 100% premium cotton and made in the UK. The tea towel will arrive packed with a wrap around and with a hanging loop attached to the tea towel.  Perfect as a gift or to brighten up your kitchen.  All proceeds to The Norfolk Hospice.  Measures...
---
• BBC Radio Norfolk • Norfolk • Norfolk Open Studios • Open Studios • Radio Norfolk • Treasure Quest
Lovely visitors this morning..Being part of the BBC Radio Norfolk Treasure Quest was great fun this morning - was delighted they found me.. they were so nice too  Listen here https://www.bbc.co.uk/sounds/ This should link to the photographs on BBC Radio Norfolk Treasure Quest https://www.bbc.co.uk/   My studio will be open :-   October Friday 1st, Saturday 2nd, Sunday 3rd; Wednesday 6th, Friday 8th, Saturday 9th & Sunday 10th. Open 10am to 5pm each day. Having a laugh with the lovely Julie and Sophie