• art • beehives • garden • linocut • norfolk • sketch • special offer • tulips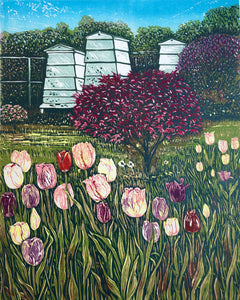 SPECIAL OFFER - sadly only available to the first buyer - if you ask you can have for FREE the original colour sketch(see photos) to go with the linocut. DEADLINE for offer 30 June 2023. finished linocut drying . sketching in the garden cutting out for the final layer       original sketch and studio assistant tired after all the advice. (only the sketch comes with the offer!)  If you don't ask for the sketch I will assume you don't want it and it will go to the next buyer. Inspired by the beautiful tulips and beehives in our garden. I...
---
• Christmas 2020 • great gifts • limited edition • special offer • unique gifts
Super value Christmas bundles coming soon - will include a variety of options to grab bargain - from £25 +  Limited edition bargains watch this race - Book, cards mini etchings and linocuts and a surprise free gift in each bundle.