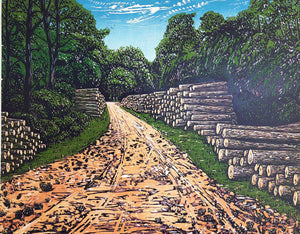 Louise Stebbing Printmaker
Emily's Wood
Regular price
£540.00
£0.00
Unit price
per
Tax included.
Linocut oil based ink on Fabriano
Edition of 8
70cm x 57cm
Inspired by a walk in the local woods in Norfolk

This is an original, hand printed, reduction linocut - so one piece of lino is used to create the whole image, printing a colour , cutting away and then overprinting - so at the end not much lino is left - so it cannot be reused - once the edition is decided on that is it.

All work is send carefully packed in cardboard postal tubes with acid free tissue inside.
---