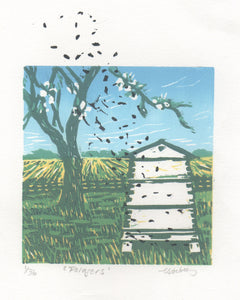 Louise Stebbing Printmaker
"Foragers"
Regular price
$143.00
$0.00
Unit price
per
Tax included.
Main printed image 10cm x 10cm
Inspired by beekeeping experiences - the hives are at the back of my studio

This is an original, hand printed, reduction linocut - so one piece of lino is used to create the whole image, printing a colour , cutting away and then overprinting - so at the end not much lino is left - so it cannot be reused - once the edition is decided on that is it. The bees were added with an extra piece of lino at the end.
---