• art • beehives • garden • linocut • norfolk • sketch • special offer • tulips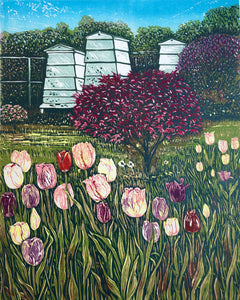 SPECIAL OFFER - sadly only available to the first buyer - if you ask you can have for FREE the original colour sketch(see photos) to go with the linocut. DEADLINE for offer 30 June 2023. finished linocut drying . sketching in the garden cutting out for the final layer       original sketch and studio assistant tired after all the advice. (only the sketch comes with the offer!)  If you don't ask for the sketch I will assume you don't want it and it will go to the next buyer. Inspired by the beautiful tulips and beehives in our garden. I...
---
• BUYART • Discount • linocut • printmaking • tulips in norfolk
Get £50 off 3 different linocuts of Tulips only until 4pm on Monday Use Discount Code MAYTULIPS at checkout  Have a great Bank Holiday weekend
---
• colour • fields of flowers • linocut • merchandise • norfolk • Norfolk Hospice • tulips • tulips for tapping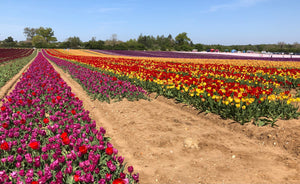 Had a lovely time in the beautiful tulip fields in Norfolk in aid of Norfolk Hospice tickets still available  Did a couple of quick watercolour sketches but mostly just soaked up the stunning beauty of the fields  Check out the merchandise... my linocut from the fields last year available as a t towel - also available on their website.    Thanks to Karen Harvey for the photos (first one what happens next!)
---
• artists • arts in London • Linocut • London • Printmaking • Royal Academy Summer Exhibition • Summer Exhibition 2021
So excited to say I have my linocut "Rise of Female Artists" accepted for the Royal Academy Summer Exhibition 2021 Book tickets this link  Its a different subject for me but something I had been wanting to work on - without Lockdown it may never have developed the way it has - it took a long time creating and is complex to print - it a colour linocut printed onto canvas and mounted on wood.  Its hard to photograph as its 5 feet tall and narrow - hopefully I will get a good pic of it in the RA I am included...
---
• Elizabeth Blackadder • Frida Kahlo • Linocut • Marianne North • Royal Academy Summer Exhibition • Women Artists • Yayoi Kusama
Linocut printed onto canvas mounted onto wood - ready to hang 152cm high by 4cm wide 2cm deep Edition of 100. £880.00 See linocuts in shop to purchase.  Selected and hanging in the Royal Academy Summer Exhibition 2021 A few available from my website or studio  Female artists listed in order -  Yayoi Kusama   1929 - present   Born in Japan, Kusama found acclaim in 1960s New York. Since the 1970s she has lived in Tokyo, where she continues to work prolifically. Dame Elizabeth Blackadder DBE, RA, RSA. 1931 - 2021  Was a Scottish painter and printmaker known for her images...