• acrylic painting • art event • art for homes • art studio • etching • linocuts • meet the artist • Norfolk • open studio • printmaking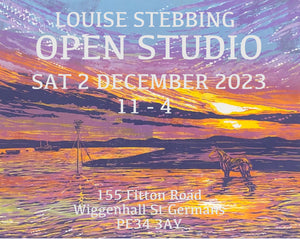 You are warmly invited to my Open Studio on Sat 2 December 11 - 4 Lots of offers only for the Open Studio - linocuts, etchings, acrylics, cards, books  Come & see how I create my work, chat about classes, enjoy refreshments.
---
• art studio • britannia • buy art • etching • etching press • interior design • lino • love art • Norfolk • open studio • printmaking
Anyone wishing to come and visit my studio in Wiggenhall near Kings Lynn can do so by making an appointment. Just call me on 07810243090 to arrange a day and time.  See how my linocuts and etchings are made and lots of work is on display, much more than is on the website.
---
• art • Art Book • art studio • artist • book • buy art • etching • exhibition • linocut • louise stebbing • norfolk • Norfolk Artist • printmaker • printmaking • Printmaking book • Retrospective Book
On August 10th I should have been opening my Retrospective Exhibition at Art at the ARB in Cambridge - sadly due to current Coronavirus Pandemic it has been postponed to 2021. A book was already almost finished to accompany the exhibition so it was decided that as it was so close to printing that it should indeed be printed now anyway - it celebrates my 40 years of Printmaking with insights into my life and why I am so passionate about Printmaking - there are over 80 images of my work. To mark the date that the exhibition should have...
---
• art • art studio • artist • etching • exhibition • linocut • norfolk • Norfolk Art class • open studios • printmaker • printmaking
Norfolk Open Studios should have been starting this weekend (see link in last blog) Here is a little Virtual Tour of my Studio as a taster.. My studio was only built two years ago - my first Norfolk Open Studio in 2018 the walls had not been plastered! Feels like I have been here ages now  https://youtu.be/E81nRv3L4QU  
---
• art • art studio • artists • buy art • etching • linocuts • louise stebbing • norfolk • online art • open studios • printmaking • studio
I should have been taking part in Norfolk Open Studios later this month but it will now be online.                              Artists have had to close their studio doors during this difficult time.  To continue to celebrate them and our local art community we are bringing Norfolk Open Studios into your home, online. During the 16 days of Norfolk Open Studios, Saturday 23 May – Sunday 7 June, you can view studio tours and art demonstrations as well as listen to artists talking about their work. https://norfolkstudios.org.uk