• Affordable Art Fair • Art Without Walls • arts in London • Campari • ContemporArti • Eros • Linocuts • London • Mont St Michel
Had my first train journey in over 15 months yesterday - I had cycled past the train station at Watlington several times wishing I could get on a train to see some art. Feeling a bit apprehensive but determined to go and find my artwork as part of the Campari / Art without Walls campaign with the Affordable Art Fair and the gallery my work is with "ContemporArti" -thanks to you all . The train was great bigger better trains now - still a bumpy ride though. Plenty of space for social distancing.  Arriving in London I then took the...
---
• 20 years • affordable art fair • Art Fair • arts in London • Battersea • ContemporArti • etching • linocut • london • printmaking
---
• affordable art fair • art • Art Fair East • artist • buy art • Church Street Gallery • ContemporArti • etching • exhibition • fenland • hampstead • limited • linocuts • london • louisestebbing • norfolk • Norwich Print Fair • open studios • printmaker • Saffron Walden • summer exhibition • West Acre Gallery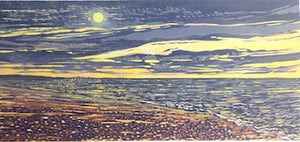 Here are some of the places you will be able to see my work this year... Norfolk & Norwich Open Studios Taster Exhibition 25 April - 2 May at WEST ACRE GALLERY Abbey Farm, River Road, West Acre, Norfolk PE32 1UA   www.westacregallery.co.uk  In my Studio see New Studio Fri 31st May; Sat 1st & Sun 2nd June Fri 7th, Sat 8th & Sun 9th June 10am - 5pm As part of Norfolk & Norwich Open Studios I will be opening my studio showing my linocuts, etchings and acrylics www.nnopenstudios.org.uk Come and see the work and or discuss classes    ...
---
• Affordable Art Fair • art • art exhibition • Battersea • ContemporArti • Linocut • London
Just found out I will be exhibiting with ContemporArti on Stand G1 at the Affordable Art Fair in Battersea in October 2106 - our stand will be even better than at Hampstead :)  new work in the making.. http://www.contemporarti.com http://affordableartfair.com/battersea/
---
• Affordable Art Fair • Art Fair • Champagne • ContemporArti • exhibition • Half Price • Hampstead • London Art
Please come and visit us at the Affordable Art Fair Hampstead see below for half price tickets - we are ContempoArti Stand H5 (near the Champagne Bar) :)