• art • beehives • garden • linocut • norfolk • sketch • special offer • tulips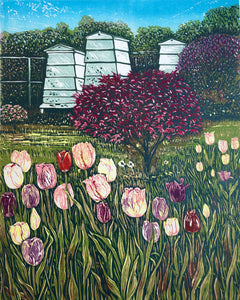 SPECIAL OFFER - sadly only available to the first buyer - if you ask you can have for FREE the original colour sketch(see photos) to go with the linocut. DEADLINE for offer 30 June 2023. finished linocut drying . sketching in the garden cutting out for the final layer       original sketch and studio assistant tired after all the advice. (only the sketch comes with the offer!)  If you don't ask for the sketch I will assume you don't want it and it will go to the next buyer. Inspired by the beautiful tulips and beehives in our garden. I...
---
• art • greetings cards • Norfolk • Pop Up • stockists
Here are a few of the stockists of my work and greetings cards - see below Coming next is Thornham Village Hall with ArTogetherEast 28 April to 1st May. Be great to see you..
---
• 2023 • art classes • exhibition • New year • Norfolk • printmaking • workshops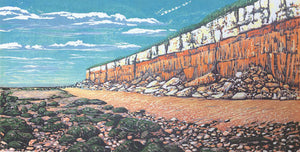 Wishing you all a happy healthy and creative 2023 One o the first things I have organised for showing my work is a POPUP in Cromer at The Garden House Norfolk from Feb 20th for a week - more details to follow.  I have several art classes arranged for early 2023 - linoprinting, mono printing, collagraph and  A drypoint class at Norfolk Creative Arts  If you would like to book a group workshop either in my studio or at your own venue please contact me on 07810243090 to arrange.    
---
• loveNorfolk • meettheartist • Norfolk • open studio • Printmaking • WestNorfolk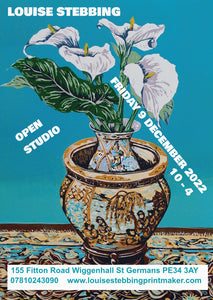 You are Warmly Invited to my Open Studio tomorrow Friday 9th December 10 - 4  Lots of great original art works from £5 - £1000 If you can't make it you can use this discount code until 31 December online.. DISCOUNT CODE ARTFAIR22 valid until 31 December 2022 GIFT VOUCHERS available for classes / framing / art 
---
• Art • ArTogether East • Ceramics • Exhibition • Grimston • Norfolk • Norfolk Creative Arts • Painting • Printmaking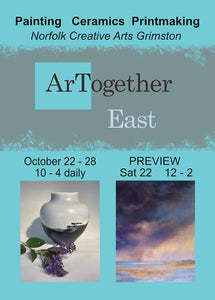 ArTogether East Inaugural Exhibition I have joined with 4 other artists to create ArTogether East a wonderfully mixed group of artists all different in our techniques and approaches. Come and see for yourself how we compliment one another in our first exhibition at the lovely Norfolk Creative Arts in Grimston. From 22nd - 28th October Please join us for a Preview on Saturday 22nd from 12- 2 ArTogether East are: Christine Finney, Ceramacist; Maxine Byron, Painter; Louise Stebbing, Printmaker, Stan Jones, Painter/Printmaker; Tom Sharp, Sculptor (Tom unfortunately won't be showing in this exhibition) The Arts Centre has a free car...