• art • beehives • garden • linocut • norfolk • sketch • special offer • tulips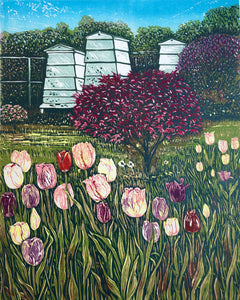 SPECIAL OFFER - sadly only available to the first buyer - if you ask you can have for FREE the original colour sketch(see photos) to go with the linocut. DEADLINE for offer 30 June 2023. finished linocut drying . sketching in the garden cutting out for the final layer       original sketch and studio assistant tired after all the advice. (only the sketch comes with the offer!)  If you don't ask for the sketch I will assume you don't want it and it will go to the next buyer. Inspired by the beautiful tulips and beehives in our garden. I...
---
• colour • fields of flowers • linocut • merchandise • norfolk • Norfolk Hospice • tulips • tulips for tapping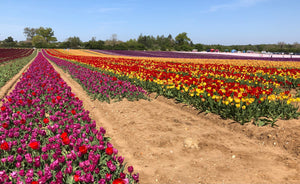 Had a lovely time in the beautiful tulip fields in Norfolk in aid of Norfolk Hospice tickets still available  Did a couple of quick watercolour sketches but mostly just soaked up the stunning beauty of the fields  Check out the merchandise... my linocut from the fields last year available as a t towel - also available on their website.    Thanks to Karen Harvey for the photos (first one what happens next!)
---
• Charity • Christmas gifts • joyful • Norfolk • T-Towel • Tulips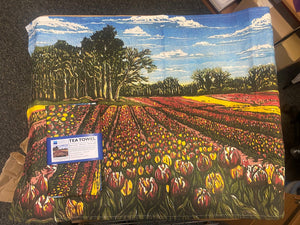 You now purchase my linocut Tulip Splendour as a T-towel - all proceeds go to charity please follow the link.. https://www.norfolkhospice.org.uk/shop/tulip-tea-towel? Tiptoe through the tulips with our brand new tea towel design, featuring an original linocut design by Louise Stebbing. Celebrate Tulips for Tapping all year round with our Tulip Splendour Tea Towel, made with 100% premium cotton and made in the UK. The tea towel will arrive packed with a wrap around and with a hanging loop attached to the tea towel.  Perfect as a gift or to brighten up your kitchen.  All proceeds to The Norfolk Hospice.  Measures...
---
• 2005 • artist • David Bellamy • fens • linocut • printmaking • prize • tulips
Lovely lovely man - presented me with my prize "Fens Artist of the Year" in Spalding 2005 - had a great chat with him about wind turbines! R.I.P. David Bellamy 
---
• exhibition • linocut • louisestebbing • norfolk • printmaker • prize • summer exhibition • trophy • tulips
I am delighted to say I won the Inga Miller Award Trophy at the West Norfolk Artists Association Summer Exhibition - the exhibition is on until Saturday 5th August 2017 at St Nicholas Chapel in Kings Lynn, Norfolk.