• 40 years of printmaking • artincambridge • Cambridge • cambridgeuniversity • Retrospective • Retrospective Book • THANKYOU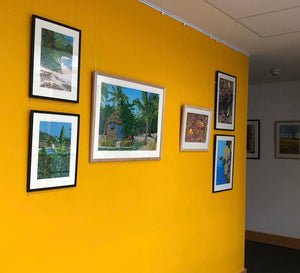 A huge thank you to everyone who visited and those who purchased work at my Retrospective in Cambridge - thanks to all those that joined the tours and listened to me babble on :) It is now officially ended (but if you're in Cambridge most of it is there until the end of this week 23rd Sept) I am delighted that so many people came from all corners of the UK. A huge thanks to Judith at the ARB for all her hard work and to everyone who has helped me with the show - you know who you are...
---
• Alison Richard Building • apple orchard • Arles • art • art exhibition • artincambridge • Cambridge • CRASSH • meettheartist • printmaking • womenartists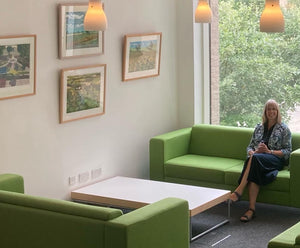 So who's joining me for the last talk/tour of my Retrospective ART at the ARB this Friday 5.30pm.  Please BOOK via the link I promise not to rabble on too much. Exhibition finishes soon.... 40 years of my Printmaking all in one building - 115 etchings, screenprints, linocuts and drypoints.  Meet me on the top floor back in the 80's.
---
• cambridge • printmaking • retrospective • summer 2022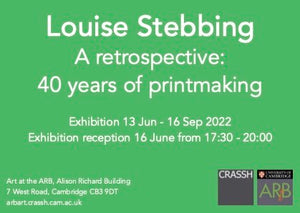 Excited to say there is going to be an exhibition reception for my retrospective in Cambridge. Thursday 16th June 5.30-8pm click link for details. There will be some days to meet the artist Meet / Tour / Talk dates to follow.  Over 100 etchings, linocuts & screenprints will be displayed. https://www.crassh.cam.ac.uk/events/33747/    
---
• Alison Richard Building • ARB • art • Cambridge • etching • exhibition • lino printing • louise stebbing • louisestebbing • printmaker • Retrospective
Just to let you know my Retrospective at Art at the ARB http://arbart.crassh.cam.ac.uk/about-the-arb-2/ has been postponed to April/May next year - dates to follow It will show 40 years of my Printmaking in this fantastic setting
---
• all change • art • art classes • Cambridge • Coronavirus • disruption • etching • exhibition • linocut • louise stebbing • louisestebbing • norfolk • printing • printmaker • Retrospective
Sad to say that my Retrospective in Cambridge has been postponed due to other exhibitions changing because of closure due to Coronavirus - I will keep you informed when a new date has been set   ALSO_ All my classes are now on hold until we have some good news that this is all behind us - I will keep you posted KEEP SAFE