• Charity • Christmas gifts • joyful • Norfolk • T-Towel • Tulips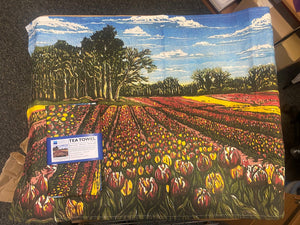 You now purchase my linocut Tulip Splendour as a T-towel - all proceeds go to charity please follow the link.. https://www.norfolkhospice.org.uk/shop/tulip-tea-towel? Tiptoe through the tulips with our brand new tea towel design, featuring an original linocut design by Louise Stebbing. Celebrate Tulips for Tapping all year round with our Tulip Splendour Tea Towel, made with 100% premium cotton and made in the UK. The tea towel will arrive packed with a wrap around and with a hanging loop attached to the tea towel.  Perfect as a gift or to brighten up your kitchen.  All proceeds to The Norfolk Hospice.  Measures...
---
• art • Christmas 2020 • christmas gift • Christmas gifts • Norfolk • Printmaking • Unique Christmas
I can run a limited Open Studio in December New work that I have created will be on display.  It will be lovely to see you if you can make it.  Because of restrictions all visitors will need to book a time slot. Open Studio:     Wednesday 9th and Thursday 10th,  Friday 11th,    Saturday 12th December 2020. I will be open from 10am - 4pm with hourly time slots - I will only allow a maximum of 2 people in the studio at a time (unless you are in the same bubble). To book a slot ring 07810243090...
---
• affordable art fair • art • art classes • buy art • Christmas • Christmas gifts • etching • etching workshop • lino workshop • linocuts • louise stebbing • norfolk • online art • printmaking • printmaking class • Unique Christmas
Stuck for a Christmas Gift? I do Gift Vouchers for any amount which can for for Classes or An original Linocut or Etching 
---
• art • Art Fair East • buy art • Christmas gifts • etching • exhibition • linocuts • louisestebbing • norfolk • Norwich • printmaker • printmaking • wow
I'm all ready for setting up Art Fair East - Preview Thursday 28th November - Art Fair Open Fri to Sun come and say hi - I am on Stand 11 
---
• Artist of the Year • Christmas gifts • free • linocuts • open studios • Peace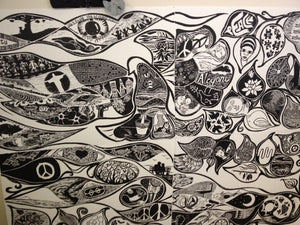 I will be having Open Studio this Friday 11th & Saturday 12th December 2015 Come and see how I create my linocuts and etchings.   10am to 4pm  FREE entry and refreshments The Peace Print will be on display in Full (the picture shows just a part of it)